Javantea's Blog
-----BEGIN PGP SIGNED MESSAGE-----
Hash: SHA512


by Javantea
Sept 1, 2016
Yesterday I published a small piece of software to Small Wide World's git to very little fanfare. It was a generalization of a bad piece of software I wrote the day before. It uses NLTK to perform a simple task: parse a simple sentence which follows the form "subject verb object" with optional additional information starting with "because". Examples of this grammar include:
GnuPG is software
IRC is a protocol
software implements a protocol
Javantea is human
AI3 is software
Javantea wrote AI3
Javantea writes software
Javantea writes English
Javantea reads German
Javantea reads Japanese
Javantea reads Portuguese
Javantea reads Spanish
nlp1.py creates this graph of the relationships:
---
-----BEGIN PGP SIGNED MESSAGE-----
Hash: SHA512


Aug 13-14, 2016
Today I spent a few hours sewing a piece in my Luffy costume. It isn't completely finished but you can see the results below. What needed to be sewn? The shirt was originally a tank top from American Apparel. While Luffy wearing a red tank top is absolutely acceptable in a pinch, it needs to be a 3 button vest to suit say Season 3 Episode 78 where they leave the island of the giants and Nami is sick, so they go to the winter island.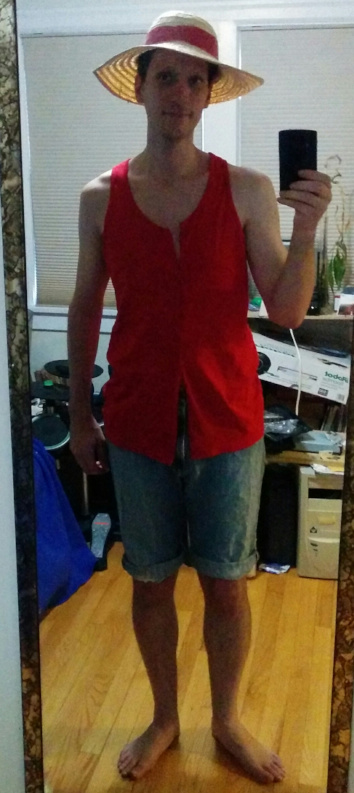 If you're incredibly lazy, sewing isn't necessary for this cosplay. If you don't intend to wash the shirt or wear it more than a handful of times (shame, shame!), then a cut shirt will actually look reasonably authentic. A really good reason to sew a cosplay is to reduce the likelihood of fraying. Many fabrics when cut will fray. The cotton from this shirt almost certainly will fray in the washer. If you've never sewn a garment, you probably didn't know that because a part of the professional sewing business is ensuring that doesn't happen. Exceptions exist, but Luffy's shirt is most certainly not frayed and you won't want yours to be either.
---

-----BEGIN PGP SIGNED MESSAGE-----
Hash: SHA512


I thought I'd give you a short photoblog with a very important message. Okay, it's not that important. The lesson for today is: Never delete anything unless you have to for privacy or safety. The corollary, keep everything encrypted. The corollary to the corollary, remember the password as long as you keep that data encrypted.
Photoblog of Zürich, Switzerland from 2005
---